Why are fire-rated doors important?
Fire-rated doors are extremely important as they help prevent the spread of fire, resulting in them always being required.   
 Holding back flames from a trapped person who is trapped within a building allows greater time for the emergency services to reach the area and save lives. Another benefit to fire-rated doors is they allow for a safe and unproblematic evacuation route out of buildings, if a fire does breaks out.
 Often sometimes confused with a panic escape doors, fire-rated doors are used for a very different purpose. See the difference here: Fire Rated Steel Doors Vs Panic Exit Steel Doors.
 When is a fire-rated door required?*
This question will normally be answered by the architect on the project as different buildings, locations and structures may vary. Below are some examples of when a fire-door may be required.
 Internal
·        Splitting a building into compartments to form an escape route out of a building for a lengthy period of time.
·        In a domestic building above 2 levels, every door leading to a core and. This can also be the case in a residential property.
 External
·        When there is another building less than 6m away.
*The above bulleted information is only examples/suggestions and may not be relevant to every project. Fire specification should always be checked and specified by Architects, Building Control, Fire Regulations and/or other relevant parties.
When should fire-rated doors be closed?
One word, always. The fundamental reason for installing a fire-rated door is to stop the spread of fire. Leaving or propping your fire-rated door open counteracts its key function, putting yourself and those around you in danger.
Further fire safety guidance can be found on the GOV website here.
Specifying your fire-rated door.
There are 3 classifications to choose from when it comes to specifying for a fire-door. Knowing the difference between them and ensuring the correct one is selected is very important. They are: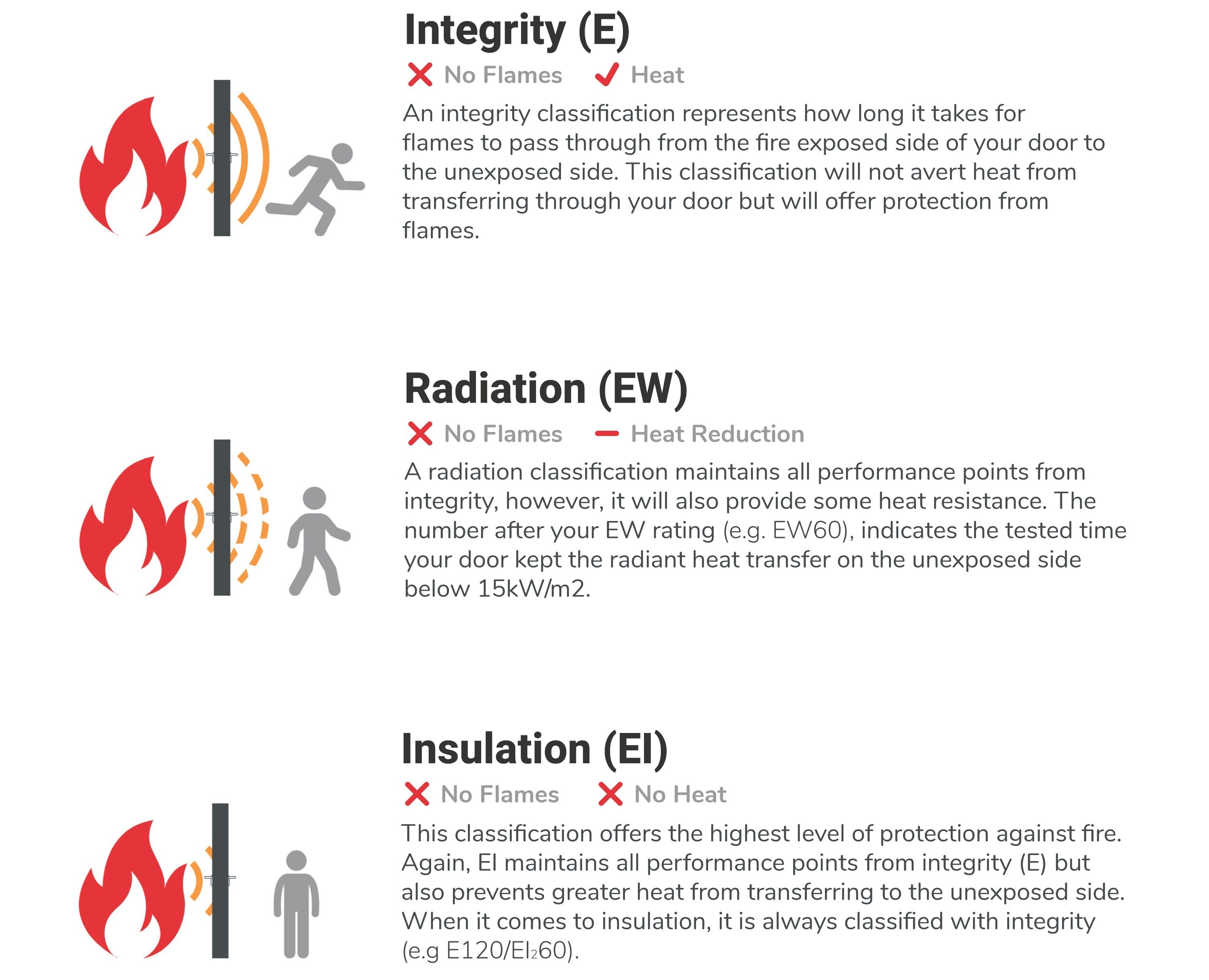 However, when selecting your classifications you should take into consideration that not all options may be available to you, as sometimes they can be specification dependent. Not all hardware, timings and U value's are compatible with every classification.
 If you are unsure of what classification works with your required specification, speak to one of our steel door experts who will be glad to assist you.
 View our downloadable Fire Classification's document here.
 Strongdor doors
 If the worst happens and a fire breaks out, then seconds can make a huge difference. Strongdor offers a versatile range of internal and external fire-rated doors.
 Internal fire-rated doors
Fire-rated between 30 and 240 minutes to BS EN 1634-1 for internal use only and smoke-rated to BS EN 1634-3. The single personnel door-sets are designed to enable internal entry and exit. Each is built to order, individually constructed with a choice of hardware, frame, threshold and panel options.
External fire-rated doors
Independently third party tested to perform in excess of up to 3 hours. CE marked to EN 16034 and BS EN 14351-1 standards. Manufactured from 1.2mm galvanised steel as standard, an integral aspect of its strength and security. The doors can be configured as a single leaf, double leaf or leaf and a half for use as both personnel and emergency exits.
 For further technical help on Strongdor's fire-rated steel door range, contact the steel door experts on 01524 297671. Or request your quotation using our online form here.